Greg's Versailles (Australia)

Ian and Grace's Versailles (Australia)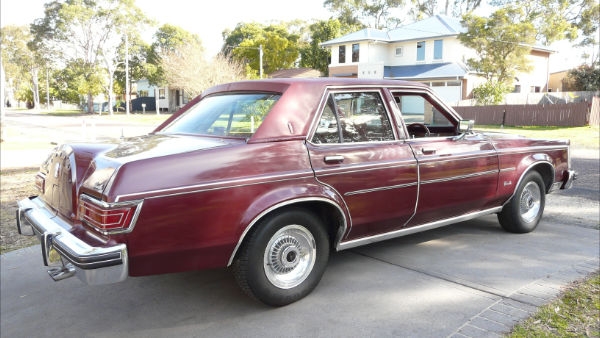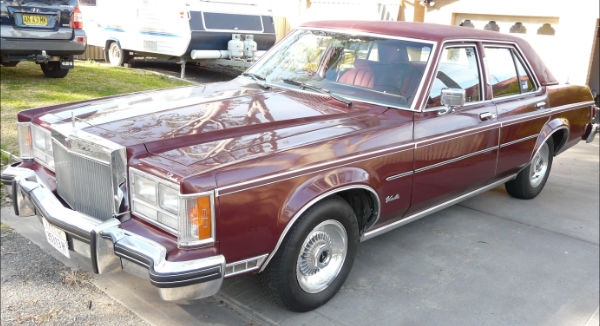 Vernon's Versailles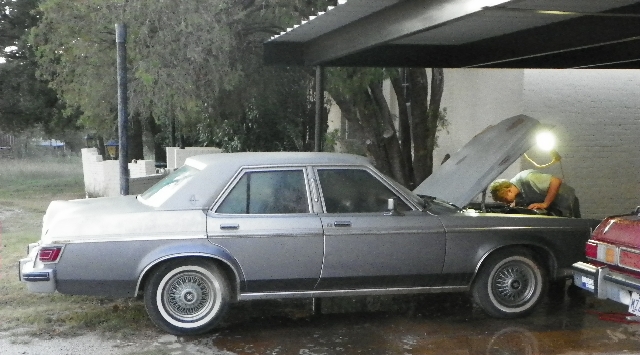 Hi, just wanted to send you a note about your incredible site. I first stumbled upon it when I began to have an interest in the Lincoln Versailles. After thoroughly going through all the brochures and literature on the site, I truly felt as if I were back in the 70s inside a virtual showroom picking out a brand new Versailles! Your website is that informative! If I were able to travel back in time I would pick a '78 model in Wedgewood blue w/ the wire wheels, blue interior w/ bucket leather seats and the floor shifter... the car would be fully loaded of course, even though most features on the Versailles were standard. (That's just a lil' dream of mine I thought I'd share.) Regarding the criticism and demise of Versailles: I really don't care what the critics say about the Versailles and its hefty price tag compared to the Granada; in my opinion it was a wonderful car for the market-segment it was aiming for. It was not very different than the badge engineering that goes on today... think Lexus/Toyota, Honda/Acura and even Chevy/Cadillac. Speaking of Cadillac, although the Seville (Versailles' target competitor) was an outstanding car in every sense, I never cared for the interior... it came off as impersonal & unattractive compared to Versailles'. Anyhow, Thanks so much for allowing me to share my views and such. Your website is truly incredible and I applaud you for all the hard work you've put into it.
Warm Regards, Edward C. 5/29/2011
Dick's Versailles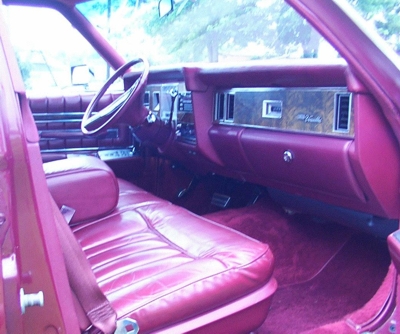 I have a 79 Versailles that is factory origin al except the battery, oil/oil filter and air filter. It has 40,000 actual miles and is in show room condition. It is Cordovan Red and loaded. She only comes out of the garage when it is 70 degrees or higher and no clouds in the sky. Drives like new one. Every car show I take her to I always walk away with a trophy and is a big crowd pleaser. ---Dick
Cameron's Versailles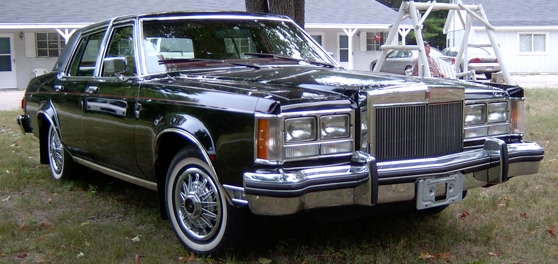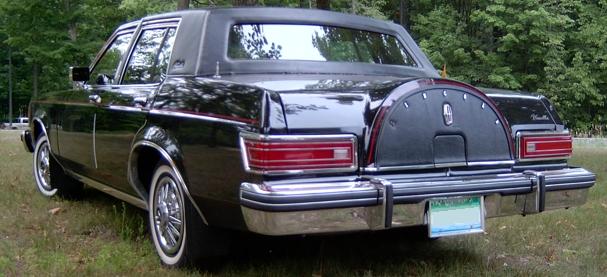 My dad had been looking for a Versailles for quite some time. He owned a Versailles when he was younger and fell in love with it. He discovered this beautiful 1979 Lincoln Versailles in the pages of Auto Swapper, and instantly bought it.
So we packed-up the Lincoln MKX and drove 100 miles north to pick up the Versailles. It was advertised as "Mint"...and that it was!!! It had been sitting in an elderly lady's Victorian garage since 1996, undriven, and covered. So Dad and I carefully uncovered it, put a fresh battery in it, and checked all the fluids, belts and hoses.....it unbelievably started on the first try!!
The car is mint...showroom condition!!!...42,000 on the odometer. The only thing Unoriginal on her is the tires and battery. The paint is original and flawless!!
Dad drove the Versailles all the way home without a problem...temp gage never budged. And the ride was unbelievably smooth he claimed. We spent the night at a nearby hotel when I took these pics.
You have an excellent website that has been very helpful to us in our quest trying to find out information on this beautiful old car.
Thanks a million --- Cameron
Steve's Versailles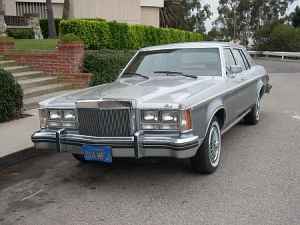 My name is Steve. I live in California. I just purchased a 1979 Lincoln Versailles. I love it. I bought it from a 93 year old women who cant drive anymore. The car has 11,000 original miles on it. I took car to my mechanic and was told the car is outstanding for its age. I detailed the interior, it looks like new all leather. The dashboard is like new no tears, fading as is all the inside interior. I was able to find original hubcaps in excellent condition. Found the 1.5 whitewall and am now having the car repainted. Here's a pic of car when I got it. The bumpers etc are in great condition. I'm looking forward to the paint job completion. ---Steve
Jason's Versailles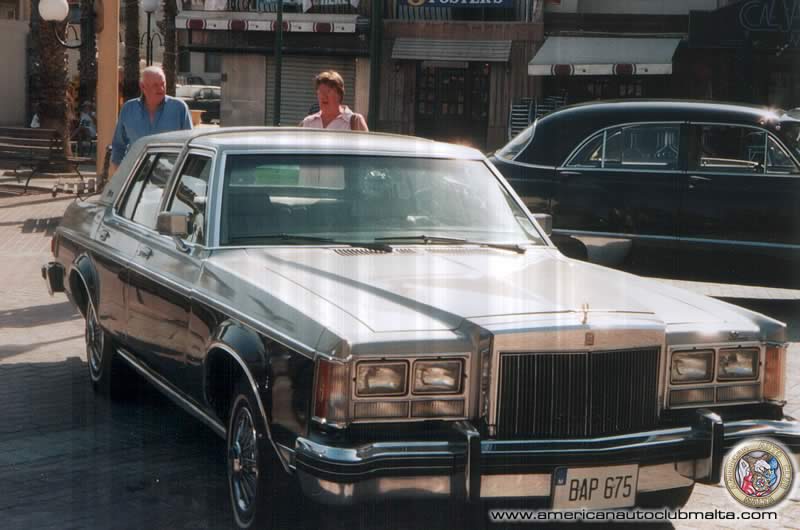 My name is Jason and I'm from the sunny island of Malta. I'm a Lincoln enthusiast and I just found and bought this 1978 Lincoln Versailles with 33000 miles on the clock, it is in extremely excellent shape and never been abused the body work and interior are 99.9% original and perfect. I had just bought all the braking system and all the cooling system cause the originals were leaving the system. Now around January it will be on the road again. The engine is superb. All is working apart from a couple of bulbs. This car was in storage since 1981, lifted from the ground, dry stored and totally wrapped up like a Christmas present. It shows absolutely no wear at all. Rust is non-existent. Only 1 part of rear left wheel arch chrome is a bit damaged, but I will replace it. This car will be stored in my garage vault in dry condition with dehumidifier working 24/7. Before, I used to own a rare 68 Chrysler VIP V8. Thank you for your site it is extremely helpful and interesting and organized.
Don's Versailles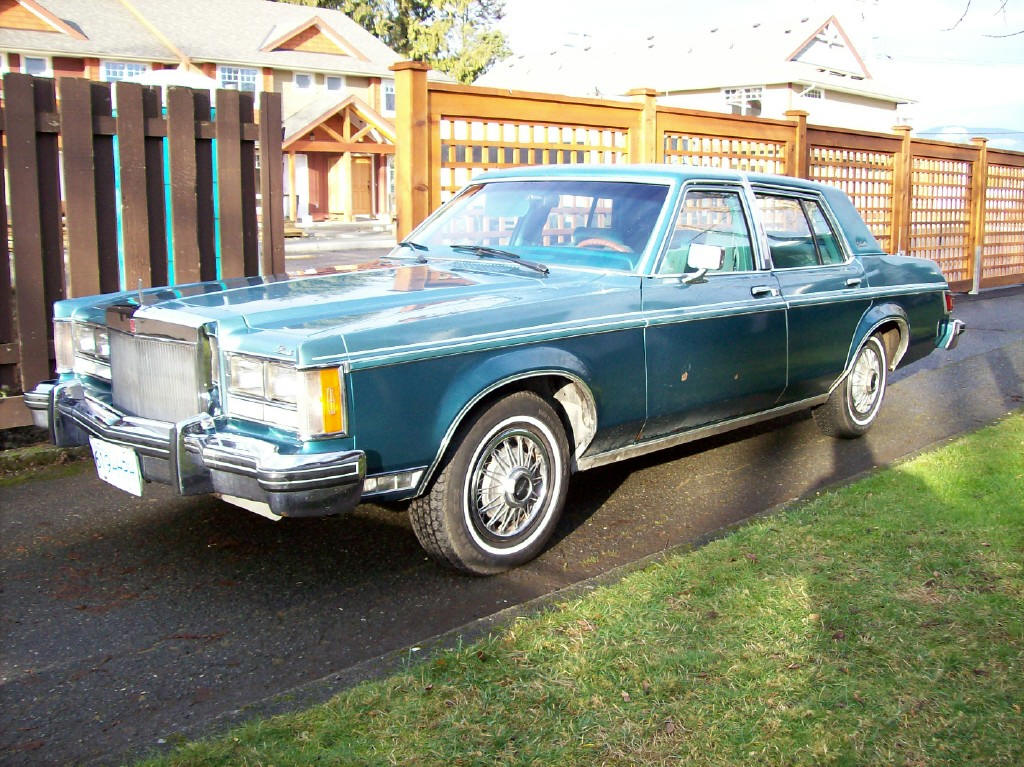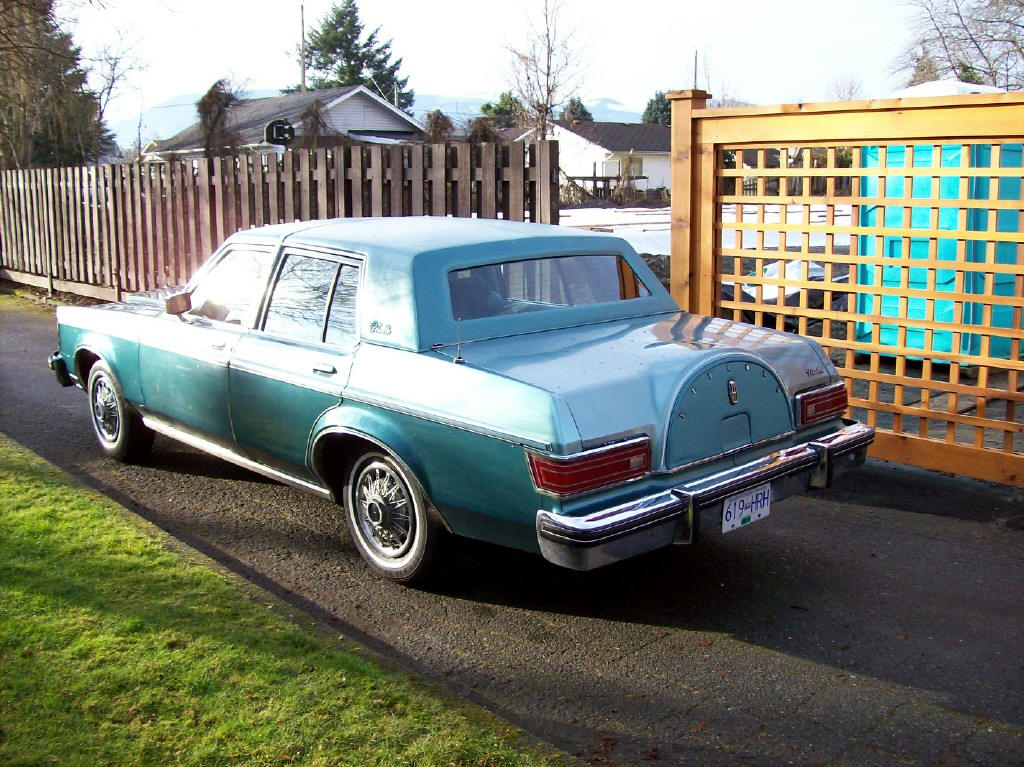 Hi Jim just took a couple pics a week ago. Took the wheel covers apart & cleaned them, still some time damage but will have to do for now. The Versailles has had most of the work done to make it a real good looking survivor! The headliner has been done upholstery cleaned, most of the mechanicals done, new paint on the bottom. ---Don
Evgenie's Versailles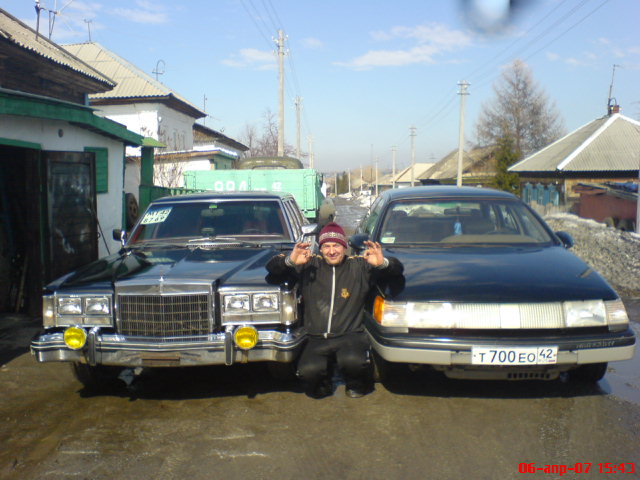 Evgenie and his Versailles and Sable in Kemerovo City, Russia
Joachim Friedericy & Jan Dirk Kruit's Versailles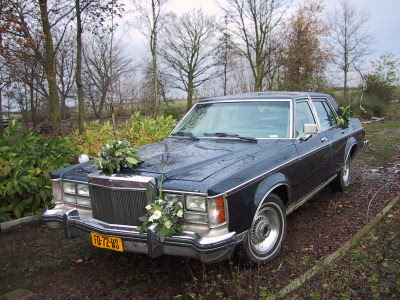 1979 Lincoln Versailles. We bought April 2000 for about 800 dollars (2000 dutch guilders). It took us 4 months to find out that the timing chain was worn. When we replaced it and brought the car to a carwash we found out that it was in somewhat better state than the price would suggest.
Stanislav's Versailles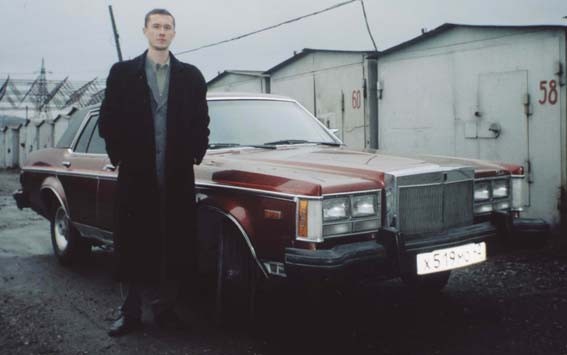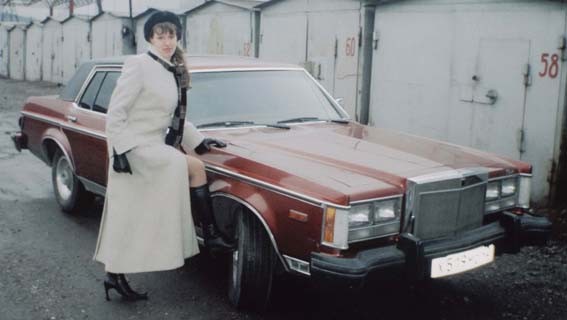 Stanislav & Oksana Zubkov in Russia with their 1980 Lincoln Versailles. Stanislav states: This Versailles arrive to Russia, Kiselevsk city in early 90, it was a program "cars for miners", used cars exchange coal. His first owner was miner and used it as a work car.
Randy's Versailles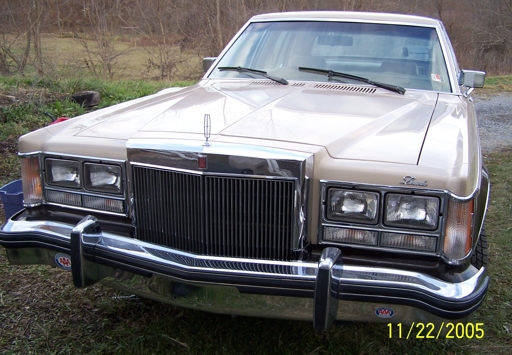 Hello, My name is Randy, I didn't think other people actually remembered these cars, I'm 36 and I've loved this shape of Lincoln ever since it came out, not the 1977 version though... My partner Ted and I bought this 1979 Lincoln Versailles in October 2005 for $3000.00 from an elderly women.. It is all original and only has 52k miles on her. The woman's name was Betty so we call our new Versailles.. "Betty" .....We had all new plugs, hoses, belts and fluids replaced on her since she sat in a garage for years...This car gets many compliments and turns a lot of heads when we take it out for a drive... I wanted to ad my car to this site...Thank you for being Lincoln Versailles lovers just like we are and having this site for the honor of these never to be made again wonderful unique Lincolns.
Thought I would drop you a note and tell you how much I enjoyed your site. I didn't know that there were any other "Versailles fanatics" out there! Now I know there is at least one other one. I also had a Versailles. I thought I'd pass a bit of the story on…
I began to look seriously for a 1979 Versailles in an "attractive" color scheme. There were still a few of them around on used car lots at the time. However, I was astounded how beat up many of them were, particularly inside. Although the cars were around 11 years old at the time, I wondered what possessed people to abuse and neglect what had been a rather expensive luxury car? Finally, I found what looked like a good candidate. It was a 1979, with cordovan as both the interior and exterior colors. It had leather seat and most of the "toys". It had a very good interior, and the body appeared to be in good shape. I thought these were probably the most critical areas. The transmission slipped a bit and I could see that the heads needed to be rebuilt, but those are not critical items…
I thought life was as good as it could get the night I brought the car home. We went down to the beach at Mukilteo, Washington, and sat there with the parking lights on watching the November sunset. Unbalanced behavior? Perhaps, but it was fun. My friends couldn't figure out why I would possibly be intrigued by such a vehicle. I was, at the time, 33 years old. I guess they were thinking along the lines of cars a bit more sporty…
…a car ran a stop sign and did significant damage to the front end. The driver's insurance company wrote me a check close to what I had paid for the car. I sold it for a few dollars more shortly thereafter. Not long after that, I spotted the car. It had made the complete transition to "total junker." It was quite sad.
I was glad to have owned a Versailles, even if it didn't pan out as in had envisioned. They certainly were an interesting vehicle. I really did like the looks of the 1979 and 1980 models. I also thought they had a very attractive interior. ---Richard
Just wanted to drop you a note saying I really enjoyed the restoration photos and the magazine articles. As a Lincoln lover and collector, I've never given much thought to these cars but now I find my interest piqued. And I'm still getting over the shock of the trouble you're going through to achieve your "target car"! I would have never guessed anyone would do all that to a Versailles. Good Luck, Aaron
Your page is great! I was starting to think I was the only one alive who has a passion for these cars. I've always been a big fan of the Versailles. A lot of my friends call them a dressed up Granada. But they really don't understand some of the differences in them. I am currently building a new project Versailles which some may find stupid and a waste of time. I am taking a two door Granada and I am going to build a Lincoln Versailles two door, sort of like a baby Mark as my wife calls it! This vehicle will be as close to stock looking as possible, as if Ford had built this car.
Keep up the good work on your page, I know that some of the info on your page, has been a big help to me with finding things for my project. I understand what you mean when you say they are hard to find parts for. Whenever I see one in advertisements, I usually by it. ---John